ToeFx ClearToe Light Therapy Fungal Treatment
What can I do about my Toenail Fungus?
The ClearToe Therapy Light is the only laser-free Class 2 photodisinfection LED device authorized for sale by Health Canada for the clearance of onychomycosis. The ClearToe Therapy Light was specifically designed for toenail fungus and is backed by years of laboratory research and clinical studies
Do you need PDT?
If your nails are discoloured, thick, hard to cut or crumbly, chances are you have a fungal nail infection called Onychomycosis. This is a very common nail disease and constitutes over half of all nail abnormalities. This condition may affect toenails or finger nails, but toenail infections are particularly common.
What to Expect?
Your toenails will be blue in colour for the duration of the treatment. Your nails will fade between visits, however, the methylene blue is reapplied at each treatment.
It may take longer than your five treatments to see full results depending on the speed of your nail growth.
Some cases involving severely fungal nails may require additional treatments to ensure complete resolution.
Common Causes of Onychomycosis:
Shared nail polishes, unsterile manicures and pedicures
Communal showers, pools, hot tubs, and saunas
Damaged or injured nails
Excessive wearing of closed shoes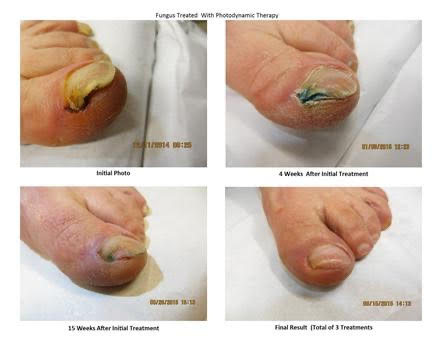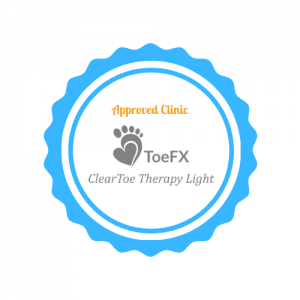 ToeFx ClearToe Light Therapy Fungal Nail Photodisinfection Treatment
$85.00 a treatment (6-10 treatments needed)
We are delighted to offer our patients and the community in Windsor-Essex County a proven, painless Health Canada approved and safe treatment option to treat toenail fungus.
Introducing, ToeFx ClearToe Light Therapy Fungal Treatment the only approved light therapy to treat toenail fungus.
ToeFx ClearToe Light Therapy Fungal Treatment is driven by innovation. Founded by two scientists, our vision is to create the world's most effective foot care treatments. We understand that toenail fungus can be embarrassing, hard to treat, and hard to talk about. We want to help the millions of people hiding their feet to "show off their toenails" with confidence. Our commitment to our partner clinicians and their patients is to provide innovative, high quality products that really work
What is toenail fungus?
Toenail fungus or onychomycosis, also known as tinea unguium, is a chronic fungal infection of the nail bed that impacts millions of people worldwide. Onychomycosis can be caused by a variety of fungal infections caused by dermatophytes, yeasts and non-dermatophytic moulds. The most common cause of onychomycosis worldwide is the dermatophyte T. rubrum. Current global estimates suggest that approximately 11.2% of post-industrial countries suffer from onychomycosis. For the majority of sufferers, treatment can be very challenging with many common treatments having demonstrated low efficacy tied with long durations to cure.
To combat the traditionally low efficacy and long treatment durations, ToeFx ClearToe Light Therapy Fungal Treatment has introduced a new therapy, ClearToe Therapy, to meet market needs. Studies have shown that the ClearToe protocol, which takes about 30 minutes, clears most infections within 6 months. The ClearToe technology has a proven safety record with no known side effects and has entered the Canadian market with partnerships with domestic foot clinics.