HANDS-ON CLINICAL COURSE COMPONENT
(MODULE 2 OF ADVANCED FOOT CARE NURSE CERTIFICATE)
3 DAYS IN A BUSY FOOT CARE CLINIC AND IN A FACILITY SETTING
We will book the days to work with your schedule!
Must have completed a recognized Foot Care Nurse Theory Program prior to applying for this course.
Such as Foot Canada Training, PedED, Ruth Ruttan, and Foot programs at College etc.
3 days of 1-on-1 training in our very busy office learning all the best techniques and in a facility getting lots of practice and expert advice from our foot nurses. All the supplies needed for the days to practice foot care will be supplied. Full half day training in a working state of the art sterilization room.
After proof of theory course completion (module 1) and Hands-On clinical (module 2) a Advanced Foot Care Nurse Certificate will be awarded.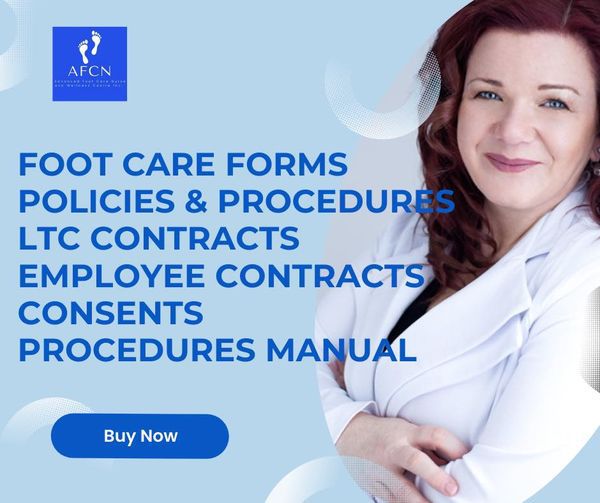 FORMS & POLICIES FOR PRACTICE
Its the things that nobody really talks about, that you REALLY NEED HELP with…
Entrepreneur Success is built of so many things you should be doing…if only you knew how.
I look forward to sharing our strategies for success and have you join us in this VERY competitive Footworld!
Business Building Consultation Packages:
1hr zoom meeting – $100
1hr zoom meeting package of 5 within 6 months -$400
Visit our clinic mentorship-Windsor
1 day- $400
3 days $1000
Foot Care Business Forms-PDF
Treatment Consent form- $150
LTC contract -$275
Care Protocols-$100
Policy & Procedure Manual- $350
Employee/contract form-$300
Compression consent form-$50
Orthotic consent form-$50
Sterilization policy & Procedures- $250
Sterilization forms with maintenance logs and sterilization logs, MIFUs-$250
Vendor package with contacts and pricing-$100
Complete package- All forms package-$1600.00
What business dreams are you holding back on?

When creating your strategy, its very important to pick a measurable extraordinary goal

From this we can help to change your mindset to deliver and achieve.
Sometimes it just takes a minute to engage with a expert who's looking from a different angle, and can break things down even further for you into doable-tasks.
This is what I do! I work with you to create a blueprint for success in real-time!